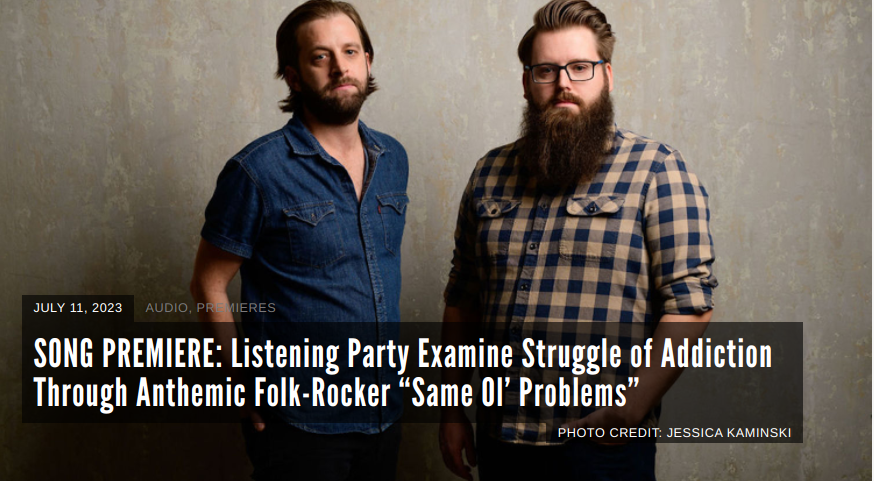 The Bluegrass Situation: Stream: Listening Party, 'Been a Long Time Comin' by BGS 
Spin Magazine: 94 Musicians Predict the 2023 NFL Season by Daniel Kohn
Glide Magazine: Listening Party Examine Struggle of Addiction Through Anthemic Folk-Rocker "Same Ol' Problems." 
Over the last decade, Milwaukee-based band Listening Party has sought to create songs that deeply resonate with their listeners. Their folk and Americana-steeped sound expertly and reverently takes the pulse and traditions of their genre while adding their own charm.
Radio Milwaukee: Listening Party Get Smaller But Wiser on "Same Ol' Problems" - By Brett Krzykowski 
The folk/Americana band has drawn comparisons to The Lumineers, and you'll hear it right away on the new track as a simple piano progression wanders through the first few seconds. More determined acoustic guitar and Mueller's rich vocals pick up the pace, getting reinforcement from a gentle kick drum and harmonica.
Milwaukee Record: Listening Party looks on the bright side in new single, 'It Ain't So Bad' - By Tyler Mass
"It Ain't So Bad" features vocalist/guitarist Weston Mueller singing an infectious melody about making the most of a bad time and finding comfort in solitude...multi-instrumentalist Jacob Wood, makes his presence known with soulful harmonica, powerful piano playing, and high-caliber harmonies that help carry the positive, foot-stomping folk anthem to even more expansive territory.
Shepherd Express: Listening Party: Testing Their Mettle by Joshua M. Miller 
Milwaukee Journal Sentinel: 16 Top Milwaukee Albums, Songs and EPS to check out in September 2023 by Piet Levy
WFRV Local 5 Green Bay: New Album from Wisconsin's "Listening Party" by Millaine Wells
 Americana UK: Listening Party 'Been a Long Time Comin' by Rick Thorn
A generous slice of Mid-Western Country Americana 
Country Music UK New Music Monday
SA Examiner 'Been A Long Time Comin' Album Review - By Sanda Cruz
The songs are accented and driven by a "howling" harmonica and a church piano. At their core, the band and album remain true to the "intimacy" of storytelling and melody
SKOPE Magazine: Folk-Rock Duo Listening Party Look at the Brightside With New Single 'It Ain't So Bad' By SKOPE
 Adventures In Americana: Artist Interview: Q&A with Listening Party By Carol Roth
Evolution is at the heart of Listening Party's story. The Milwaukee Wisconsin act has gone through a few permutations of sound and band members. But their bedrock basis in roots music—folk, rock and Americana—and the influence of artists like Prine and Dylan, The Lumineers and The Avett Brothers have remained steady throughout their decade as a band.
 FATEA: 'Been a Long Time Comin' Album Review By Mike Davies
...the Southern goodtime 'Reckless', a song about "livin' like I ain't got nothing left to lose"...could have found a home on a Waylon Jennings album...
 Grateful Web: Against All Odds Milwaukee-Based Duo Listening Party Release Their New Album by Grateful Web